About my work
I've been moving between physical theatre and live art trying to build a bridge. I don't think my work can be confined within theatrical boundaries and the only suitable frame I can find is live art. I tend to site-specific work and I am very interested in nature.
I've toured professionally as an actress in Spain and Portugal as a member of a company devising our "gender focused" pieces. At the same time I've created dance and live art solo work indoors and outdoors. My last theatre performance has been "The Theatre of Forgotten Scenes" directed by Anna Furse performed at the George Wood Theatre at Goldsmiths College. London. "In Between" is my last solo piece, a live art piece performed at Goldsmiths'gardens.
Education
MA Performance.Goldsmiths College.
Certificate in Drama (equivalent to BA). Espacio Aberto.Santiago de Compostela.
(Galicia-Spain).
Degree in Mathematics.Universidade de Santiago de Compostela (Galicia-Spain).
Further training
Pilates, Feldenkrais, Alexander technique, Body Weather, contemporary dance, afro-caribbean dance, contemporary art, performance art and perception…
Workshops attended led by: Rena Mirecka (Jerzy Grotowski's Laboratory), Olga Mesa, Monica Valenciano, Blanca Calvo, Andres Corchero (student with Min Tanaka), Geraldine Pilgrim, Graem Miller…
Key influences
Grotowski's paratheatrical work and Ana Mendieta.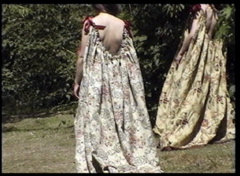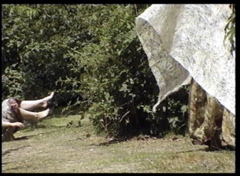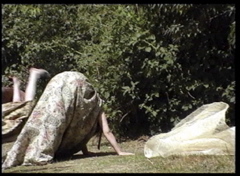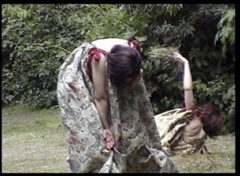 Artist(s): Lauren Goode and Maria Llanderas
Image title: Durational performance event in Greenwich Park.
Stills from video documentation, 2005.
© Lauren Goode and Maria Llanderas